NTDOOM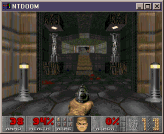 NTDOOM is a port of id Software's best-selling game DOOM to Win32 systems, targetted mainly at WinNT 4. It is based on the original DOOM source code (doomsrc.zip), and originally ported to WinNT by Petteri Kangaslampi. The current version also includes modifications from other DOOM ports.
Note! Due to lack of time, the NTDOOM port will not be developed further. It already has filled its original purpose, getting the basic DOOM engine ported to WinNT, and we just don't have the time or interest to continue working on it. Other developers are welcome to continue our work, using NTDOOM as a basis for future DOOM development, or using code from NTDOOM in other DOOM projects.
You can download the latest binaries (29 Jan 1998) as well as source code (29 Jan 1998) here. To compile the source, you'll need either Watcom C or Visual C and Housemarque Audio System. In addition, NASM is required to compile the assembler sources and GNU Make to use the Makefile, but neither are absolutely necessary.
NTDOOM users might also want to check out the NTDOOM front-end from Miroslav Vasko (vasko@ies.sk). Both binaries and Delphi source code are available here.
Some useful files and links:
NTDOOM was ported by Petteri Kangaslampi, pekangas@sci.fi, but is no longer maintained.